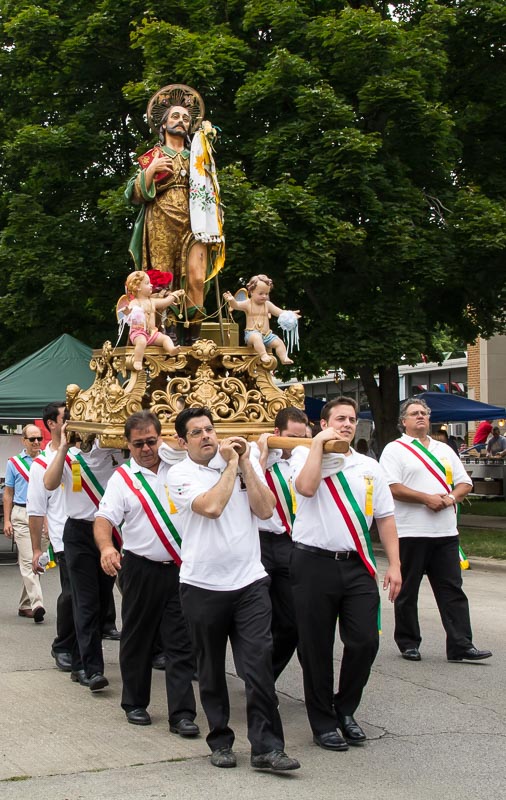 St. Rocco 114th Anniversary Feast Celebration 2017
St. Rocco Di Potenza 114th Anniversary Feast Celebration will take place on
Sunday, August 20th, 2017.
MASS:  Noon; celebrated by Fr. Stan Czarnecki, Fr.Richard Gron, Fr. Robert Lojek and Fr. Jurek Maciejewski.
PROCESSION: 1:30 pm
NOVENA: Friday, August 11th through Saturday, August 19th, at 8:15 am,
with the exception of Sunday, August 13th, which will be held at 7:30 am.
ANOINTING MASS:   THURSDAY, August 17th at 7pm at St. William Church, 2600 N. Sayre, Chicago
Celebrate with Us!  Food & Entertainment
On Sunday, Aug. 20th on Sayre Avenue in front of the church, from 11 am until 10 pm. Food vendors will be offering a variety of Italian food specialties, beverages and desserts and Italian novelties will be for sale—rain or shine—in the Community Tent. In front of church, La Banda Siciliana performs immediately after the procession and Benediction followed by Stella Raimondi & Enzo Scarano.
Welcome Members and Friends!
Welcome to the St. Rocco di Potenza Society's website.  We are located in Chicago, Illinois.  Please feel free to browse our site for information on St. Rocco and what he means to us.  We welcome any questions.  Please contact us to learn more about membership.
SATURDAY, NOVEMBER 4th, 2017
Join Us for Our Annual Dinner/Dance
Location:  Manzo's Banquets
Entertainment by Stella Ralmondi and Enzo Scarano!
For tickets to the dinner/dance, contact Society President Vincenzo Cataldo at
(847)721-8124;  Josephine Bax:
(847)823-8984;
Sal Aloisio:
(773) 551-2604; Emilio Scalzitti:
(773)413-7542, Veronica Gentile: (312)391-9954
Co-Celebrating with St. Rocco di Potenza again this year:
The 114th Anniversary of St. Mary of Sambuca Society MARIA SS DELL'UDIENZA